Asha enthrals Delhi audience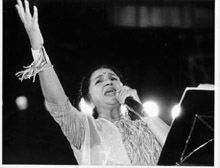 Singer Asha Bhonsle performing at the Jawahar Lal Nehru stadium in Delhi on Sunday
'Dus Hazar Ashaon Ke Pal', the live concert by Asha Bhonsle in the Capital, brought the normally conservative Delhi audience to its feet for each one of the ten thousand eight hundred seconds. Brought to Delhi by 'The Hindustan Times' and Thums Up, Asha Bhonsle enthralled a capacity audience at the Jawahar Lal Nehru Stadium with her versatility. Beginning with a classic offering of her 'jaan' and 'dil' from 'Umrao Jaan' she sang the night away with seasoned favourites including 'O mere sona re sona re sona' from 'Teesri Manzil', 'Rumba gira re' to the more recent 'Zara sa jhoom loon mein'.
Asha had the audience with her every second of the show. 'Dum maro dum', the first song that was picturised on Zeenat Aman, set the tempo for things to come. This was followed by 'Raat akeli hai', a song which Asha sang for Tanuja. "I have sung for the mother and the daughter (Kajol). Now if you, the audience, are with me, I will even sing for the granddaughter when the time comes," Asha told Delhiites.
The show, created by Uni Rapport and Provista, began with Asha entering the stage via a giant statue. Accompanying her for the duets was Babul Supriyo who has recently done the playback for Akshaye Khanna in 'Doli saja ke rakhna'. The first duet of the evening was 'Ek mein aur ek too'.
In tune with the short attention span which live audiences generally have, Asha presented a medley of favourite numbers instead of the entire songs. These included 'Kali ghata chhayee' 'Ude jab jab zulphe teri', 'Ye hai rashmi zulfon ka andhera' and 'Ye ladka hai allah kaisa hai deewana'.
'Rangeela re', picturised on current Bollywood heartthrob Urmila, with which Asha tried to close the evening, had the audience clamouring for more. And like the final song of the evening, 'Dil le gayee', from Madhuri's 'Dil to Pagal Hai', Asha won the hearts of all Delhiites. The entire audience gave her a standing ovation and called for an encore. Asha was not allowed to leave without giving in to the audience demands and had to sing it once again.