Dadasaheb Phalke Award has gone to deserving artist: Asha Bhosle on Gulzar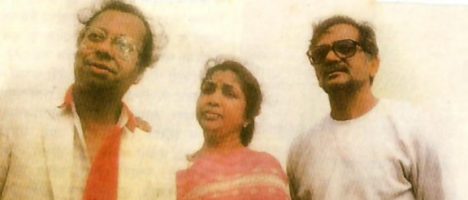 By Subhash K. Jha Tuesday, April 15th, 2014 8:20 pm
From the time she sang "Ghar jayegi tar jayegi doliyaan chadh jayegi" for Gulzar in "Khushboo", Asha Bhosle has shared a very special rapport with her Gulzar bhai who has been named for the coveted Dadasaheb Phalke Award. She feels it has gone to the very deserving artist.
When I see how far he has come in his life, I feel happy. The Dadasaheb Phalke Award honours a very deserving artiste this year.
As I speak to you, I remember all the beautiful songs Gulzar bhai has written for me – 'Mera kuch samaan' in 'Ijaazat', 'Yeh saaye hain' in 'Sitara', 'Phir se aiyo badra bidesi' in 'Namkeen' and all those fabulous songs in the non-film album 'Dil Padosi Hai'. Sachchi, yeh bade khaas kalaakar hain.
she said expressing great joy at Gulzar's latest recognition. Gulzar, Asha and her late husband and composer R.D. Burman, fondly called Pancham, formed a formidable team.
Our team – Pancham, Gulzar bhai and I – was unbeatable. Together we created some great songs. Don't ask me to name my favourites. I love every song that I did with Pancham and Gulzar bhai.
Asha says she was instrumental in bringing Gulzar and Pancham together.
If I hadn't intervened, I wonder if these two compatible creative giants would have ever found one another! Neither of them is the kind who would have reached out on their own.
Don't ask me why. But I instinctively felt Pancham and Gulzar bhai were meant to make music together. Long before they created that song for Lata didi, 'Sili hawa choo gayee' in 'Libaas', I could hear that tune coming from Pancham and I could see Gulzar bhai finding the right words for that beautiful composition.
The three of us would think together about a song even before it was created.
R.D Burman with Asha Bhonsle and Gulzar
Besides music, what bound Ashaji to Pancham and Gulzar was food.
You know I love to cook. And the two of them loved to eat. So it suited us fine. Gulzar bhai loves my 'karela gosht' and my Bengali kheer.
Not that there were no disputes. There were arguments, yes. But not between Gulzar bhai and Pancham. They'd never have serious disputes. Jhagde hotey they mere saath (they'd squabble with me). But it would always come out right at the end because I had the deadly combination of 'khaana and gaana' on my side.
The enchanting songstress recalls a historic interview that she participated in with Gulzar and Pancham.
I remember they arrived together looking serious, solemn and worried. I rushed to the venue and immediately started talking incessantly. Gulzar saab laughed and said, 'Asha hansi lekar aati hai jahaan bhi jaati hai.' I love to spread happiness among people.
Maine bahut takleef dekhi hain (I have been through difficult times). But the pain is all mine. The laughter is for others. I think Gulzar saab and Pancham enjoyed my company not just because I sang their songs, but also because I made them happy with my food and laughter.
Gulzar saab and Pancham always liked my never-say-die spirit. Even today I am singing for films, though don't ask me where and for whom. I just sing and come home. I am also doing live concerts. Even as we speak I am packing to leave for Kolkata for a concert.
Suddenly the spirited singer realises she has so far only spoken of Gulzar in tandem with Pancham.
That's because both are so connected in my mind. However, I met Gulzar bhai for the first time when I recorded a song for composer Vasant Desai. He was present at the recording. He was so quiet and unobtrusive. That hasn't changed. Gulzar bhai likes to make his presence felt quietly.