Ashaji not a good judge of talent: Darbar on music legend
Surat, June 7: Reputed music director Ismail Darbar was in the city to promote a singing talent hunt show televised by a national channel where he presides over as one of the judges. The city which also happens to be his birthplace and home for 15 years of his childhood will soon see a professional music school come to life and Darbar says the project is underway and will be completed soon.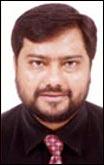 Vociferous about his disapproval of Asha Bhosle as a co-judge on the show Ismail says, "Asha has made many mistakes while judging talent in the competition.
She is not a good judge and rejected quite a few people with talent."
Arguing that music directors make better judges than singers in choosing talented singers Ismails says, "A music director has a good knowledge of sur and taal and he can guide the singer while composing a song but a singer may not always be competent enough to do the same."
(source: rediff.com)