It was a pain to watch the immortal numbers composed and sung by the RD-Asha duo distorted irreparably by the horrendous remixes being churned out by every Tom, Dick and Harry. Unable to bear it anymore, the energetic Asha jumped onto the remix bandwagon herself.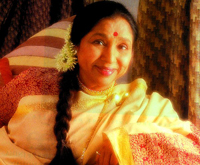 Says Asha, "My songs are being sung by someone else. The present generation has forgotten my songs. My purpose is to keep my songs afresh in the minds of the younger generation. It is not for the marketing or salability of the song. After all, my memories should be there, right? People should remember me. Children should know at least that Asha Bhonsle was a singer, RD Burman was a music director. People are beginning to forget all this because of the remixes being sung by someone else. That is why I am doing the remixes of my songs myself," she explains.

The 60-something-year-old singer is still going great guns, endearing herself to a whole new generation of Indi-pop lovers. How did she turn into a pop diva, in all her sari-clad charm when teenyboppers drool over pelvic-thrusting rock stars? Asha says the need for remixes has arisen because of the changing times.

"Youngsters do not want more stereophonic effects in a song. They have to dance to the songs now. That is why music recording has become so different now. When I sing my own songs, I keep the tune and everything else the same. Itís only the rhythm or the music that changes and then the song becomes immortal."

The purpose is not marketing, she asserts. Asha believes that songs have become more light and rhythmic now with music reduced to a great extent. "Repetitiveness is not there," she s .....