I still have a long way to go...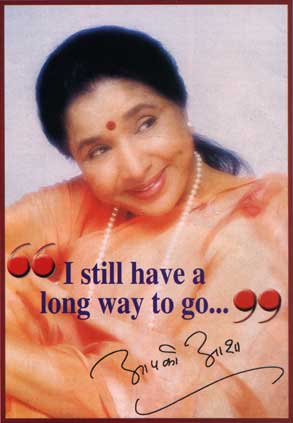 The Mangeshkars are a family deeply steeped into music. From the head of the family, Dinanath Mangeshkar to his son Hridayanath and daughters, including Lata and Asha.
The Mangeshkar's live music. Hailed as the country's first singing family, the fivesome eat, breathe and live music. Each in their different areas of performance.
The Mangeshkars hail from Goa. And Mangeshi, the famed temple town, is the place they are associated with. But growing up and living in Mumbai for a major part of their lives, they seem to have renounced their Goan heritage and call themselves Maharashtrians.
Of the sisters, Lata has become an icon, earning the sobriquet — Nightingale of India. She was lately in the news for lending her voice in protest against the coming up of a flyover along the road she lives in. In the news today is Chaitanya Bhonsle, aka Chin 2 Bhonsle, Lata's grand nephew and Asha Bhonsle's grandson, for being part of India's first boy band — A Band of Boys.
But this piece of writing is not about either the father, the brother, the sisters, or the grandson, but about one who is entwined with them in all these familial relationships — Asha Bhonsle. From singing film songs, to pop songs, to even turning composer, she has provided listening pleasure to millions of music lovers in India and around the globe. On the momentous occasion of her being awarded the Dadasaheb Phalke Award, 'g' met the songstress for a few glimpses into the mind of a winner.
Asha Bhonsle lives at Peddar Road. An upmarket area in South Mumbai. The building — Prabhu Kunj. When we alighted from our taxi and make our way to her apartment, .....